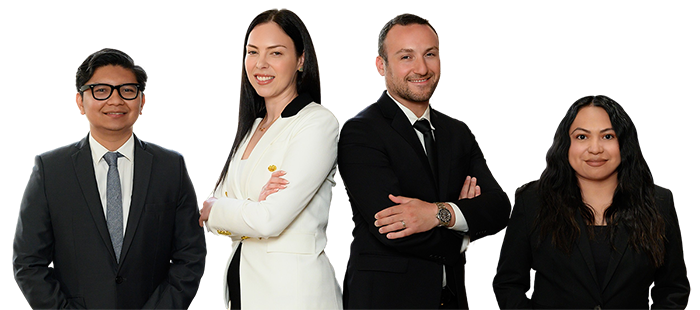 Monrovia Personal Injury Lawyers
If you've recently been injured in a motor vehicle accident (MVA), slip and fall accident or dog bite incident, our personal injury lawyers in Monrovia help you build a winning claim in a timely manner. At Braff Law Firm, we've achieved an excellent reputation as a formidable law practice, advocating successfully for the rights of injured parties.

At our personal injury law firm in Monrovia, we know accidents and injuries are often life-altering events. Our seasoned personal injury lawyers are committed to helping you deal with the local legal landscape with confidence and ease. Serving the Monrovia community, we strive to ensure our clients receive full compensation for their pain, suffering and losses. You'll undoubtedly benefit from the personalized care and unwavering support our legal team offers in advocating for your rights successfully.
Do you need to gather any evidence or documents before reaching out to Braff Law Firm for a consultation?
While it's beneficial to gather as much evidence and documentation as possible after an accident, this isn't a prerequisite for reaching out to us. If you've documented the scene, have medical reports, or collected witness accounts, these can be immensely helpful. However, even if you don't have such evidence, don't fret. The primary importance lies in hiring an experienced personal injury law firm early on.
At Braff Law Firm, we're committed to helping you at every step, starting with a free initial consultation, available anytime 24/7. Our dedicated case managers will guide you on the best next steps, plus what information might be useful. So whether you have everything in hand or are starting from scratch, fill out our online form or call us now.
How long do you have to file a personal injury claim in California?
In California, you generally have two years from the date of your injury to file a personal injury claim. However, there are exceptions wherein this timeframe varies. It's therefore essential to consult our Monrovia personal injury lawyers promptly to ensure your claim is filed within the required time limits.
Monrovia Personal Injury Lawyers
Why Pursue the Other Driver's Insurance Company?
With decades of experience and a thorough understanding of Monrovia's legal landscape, our dedicated attorneys are committed to helping you throughout this challenging time. We work closely with you to understand all the details of your specific case and devise the best strategy that fits for you. It's essential to hire a legal advocate who knows Monrovia intimately and cares about your well-being. Trust Braff to fight tirelessly for the compensation you deserve.
Will my personal injury case go to trial or can it be settled out of court?
While many personal injury cases settle out of court, there is no guarantee. The direction your case takes depends on its specifics. At Braff Law Firm, our experienced personal injury lawyers work diligently to get you the best outcome, whether through negotiation or trial. We're available anytime 24/7 for a free initial discussion about your unique situation. Our aim is always to save you unnecessary stress and time. While we have a robust local presence and can represent you in court, we'll also explore every legal avenue for an out-of-court settlement if it's in your best interest.
Adriana R. ★★★★★ Very helpful quick response thank you!Annie M. ★★★★★ I have nothing but good things to say about this team at Braff Law. They are very professional, caring and reliable attorneys. I never doubted their abilities through this difficult process and would recommend their firm to family and friends. Keep up the great work!Isaac F. ★★★★★ I saw some great reviews for Braff Injury Law Firm online and decided to hire them for my case. Thank you to Elan for his work.Arnold R. ★★★★★ Braff Injury Law Firm and Oliver were able to get me a fair settlement in my pedestrian accident case. Thank you for your help.Nela L. ★★★★★ You guys are a blessing in my life. Probable one of the best injury lawyers one can find. They have taken my case and made it "personal" for them which is for sure one of the reasons we have achieved our successful outcome. Thanks a lot guys.Linda B. ★★★★★ Thank you for the fantastic service and comfort you gave us during this unfortunate time. You always made our days more hopeful and brighter. We are thrilled with the result, and can't thank you enough. Appreciate the hard work!!Kyle T. ★★★★★ Braff Law goes the extra mile to help their clients. They treat you as a person instead of a paycheck. They fight for you and help you get the right care that you deserve. They are the best at what they do! 5 stars to the whole team at Braff.Harley L. ★★★★★ This is absolutely the best law firm around! There staff is outstanding and friendly. They will always go out of there way to take care of you and make sure you are happy. I highly recommend if in need of a result driven lawyer.Elliot J. ★★★★★ After I had my accident, I was very unaware what to do, what not to say to the insurance company, and how to proceed. One thing I learned is, never deal with the insurance company directly. If you want to get the maximum compensation for your injuries, call a personal injury attorney!! I'm very glad I called these guys over anyone else. They are experts at what they do!!!Harrison P. ★★★★★ In my opinion the most compassionate group of lawyers in California. Thank You for your help.
If you're bitten by a dog in Monrovia, who is held responsible?
In California, dog owners are typically held liable if their dog bites someone, even if the dog hasn't previously shown aggressive tendencies. If you've been bitten in Monrovia, the dog's owner is likely accountable for your injuries. Our personal injury lawyers at Braff Law Firm can clarify this for you, utilizing our local knowledge and experience. We're here to support you 24/7 with a free initial consultation, guiding you throughout the nuances of your unique case. Reach out to us directly through our online form or give us a phone call, and let us leverage our expert guidance in these situations.
Can Braff Law Firm help if an injury occurred at work?
Absolutely. If you sustained an injury at work, our law firm assists you in pursuing a workers' compensation claim (or a personal injury lawsuit against a third party, if applicable). We understand all the specific elements involved in workplace injuries, so we handle this legal process skillfully to secure just compensation for you.
Watch Out
This is something many people fall for:
Avoid Recorded Statements from the opposing Insurance Company
When you proceed legally against an insurance company or corporation, they'll do everything in their power to diminish (or negate) your case. Our legal team of personal injury attorneys in Monrovia helps you every step of the way, in order to secure the full compensation to which you are entitled.
What expenses can be claimed in a personal injury lawsuit?
You can claim a variety of expenses in a personal injury lawsuit. These include medical bills (current and future), loss of earnings, property damage, and pain and suffering. Our Monrovia personal injury law firm ensures all relevant expenses are considered, in order to maximize your compensation claim.
If you slipped and fell at a store in Monrovia due to a wet floor without any warning signs, do you have a valid case?
In Monrovia, property owners are responsible for maintaining a safe environment. If you've slipped due to a wet floor without warning signs, there's a good chance you have a valid claim. It's essential to understand that determining liability can be complex. This is where our personal injury lawyers step in. With a strong local presence and vast experience with slip and fall accidents, Braff Law Firm can expertly assess your situation. We can't stress enough the advantages of hiring an experienced personal injury law firm, rather than going it alone. Our dedicated case managers understand every case is unique. We offer a free initial consultation, and we're available 24/7, so you can discuss your circumstances anytime without any obligations. So don't wait; fill out our online form or give us a call now.
Monrovia, CA, Personal Injury Accident FAQs

Braff Injury Law Offices
Consultation Office (Call for an appointment)
899 W Foothill Blvd Unit D,
Monrovia, CA 91016